汐崎法律事務所
Shiozaki Legal
汐崎法律事務所では、国際企業法務を中心に、独占禁止法、クロスボーダーM&A、ジョイントベンチャー、 ホテル・観光業関連、ベンチャー投資、
その他の海外関連取引および渉外法務(ジェネラルコーポレート)全般の法律業務を取り扱います。
専門性を磨き、弁護士としての幅を広げることによって、クライアントの皆様のニーズにお応えしていきます。
Shiozaki Legal can assist your business in many important areas of Japanese law, with great experience and focus on corporate law, antitrust/competition law,
cross-border M&A, investment into Japan startups, luxury hotel and leisure, cross-border business transactions, and doing business in Japan generally.
For practice area details, please see the column below.
弁護士紹介 / Attorney
汐崎浩正 / Alvin Hiromasa Shiozaki
所長弁護士 / Founder & Japanese Attorney (bengoshi)

第二東京弁護士会 所属 / Admitted: Daini Tokyo Bar Association
業務分野 / Practice areas
国際企業法務・海外関連取引・渉外法務全般/独占禁止法(国際カルテル対応、社内調査、公取委・海外当局対応、コンプライアンス、国内海外訴訟、その他独禁法違反対応)/その他企業不祥事の海外当局・訴訟対応/ホテル・観光業関連対応/クロスボーダーM&A・企業組織再編/ジョイントベンチャー/ベンチャー投資/内部通報の制度構築・実務対応/公益通報者保護法/製造物責任・リコール対応・製品安全/消費者契約法・消費者団体訴訟対応/海外関連会社コンプライアンス/解雇対応・労働審判・労働争訟/その他労働法一般/その他一般企業法務
Cross-border transactions; Antitrust/Competition law (focusing on global cartel defense, internal investigation, investigation by JFTC and other competition authorities, compliance, litigation, and other infringement matters); Investment into Japan startups; Cross-border M&A and reorganization; Joint ventures; Luxury hotel and leisure; Whistleblower protection policy; Product liability defense and recalls; Consumer protection claim defense; Compliance programs; Employment law (focusing on executive/employee termination and dispute resolution); and Doing business in Japan (including entity selection and incorporation).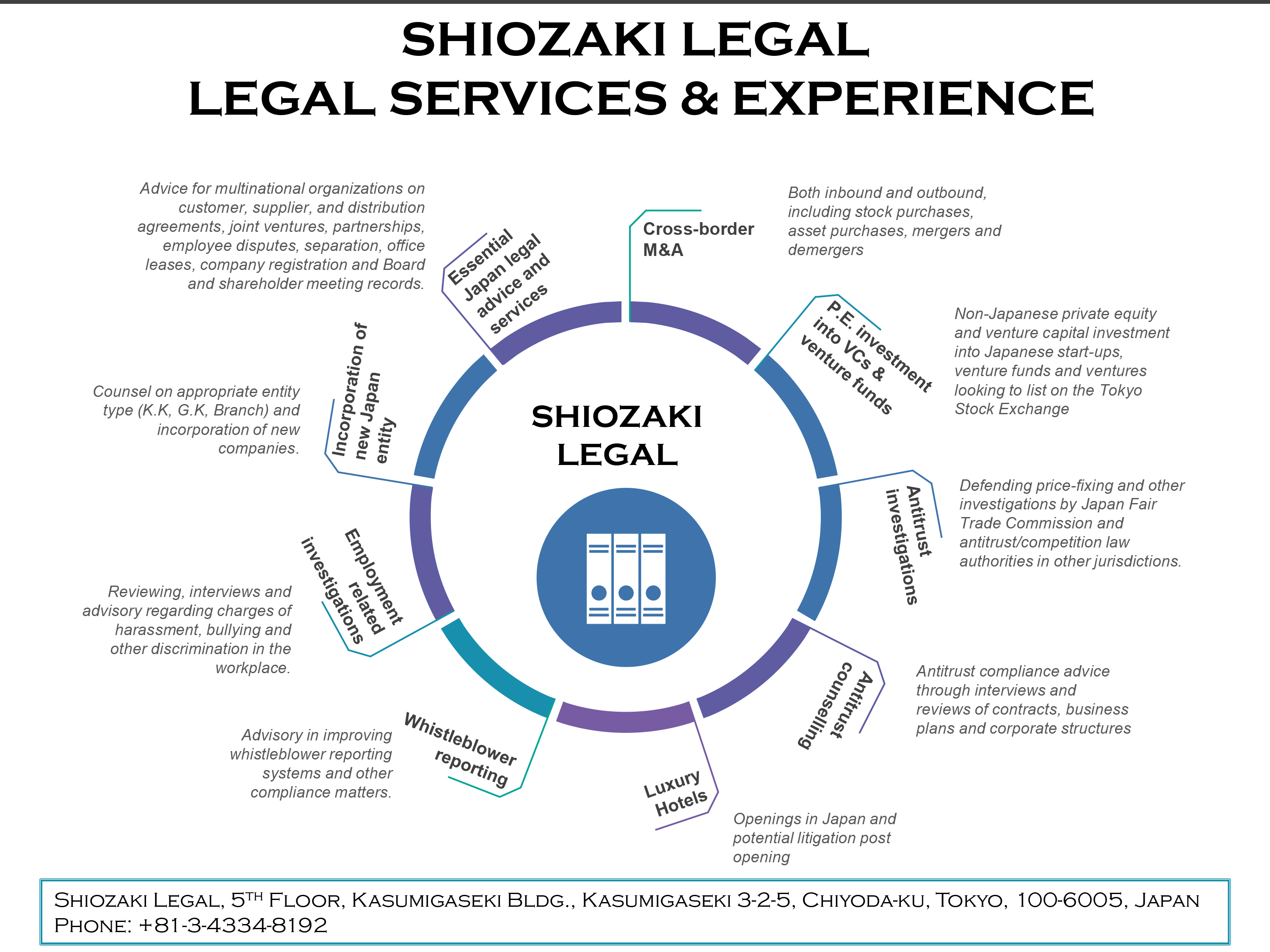 最新情報 / Recent News
受賞 / Awards
Who's Who Legal - Japan 2022 - Commercial Litigation
Who's Who Legal - Japan - Competition 2020-2017, 2015-2014
Global Competition Review (GCR) 100 Japan - 2018, 2016
The Legal 500 Leading Individuals - Labour and Employment Law 2015-2013
Asia IP Experts 2015 - IT & Telecoms, Litigation, Trademark
The International Who's Who of Business Lawyers - Commercial Litigation 2013, 2011-08
Asialaw Leading Lawyers 2008

論文・執筆 / Publications & Articles
Resale price maintenance - beware familiar pitfalls (October 28 2021)
2021-: Selected Antitrust/Competition Law Articles - Lexology / International Law Office website
2017: Global Analysis of Antitrust Compliance Programs - Japan (American Bar Association - International Antitrust Committee)

2001: 単元株創設と株式・株券の法律実務 (Japanese book on share units)
セミナー / Seminars
2018: Panelist, ABA Antitrust in Asia: Seoul – Big Data and Competition Law Enforcement in Asia – Japan
2016: Co-Speaker, ACC Webcast - Vertical Restraints under the Japanese Antimonopoly Law and How this Pertains to Supply Chain Issues and Vendor Agreements

2016: Panelist, Global Competition Review Live Singapore: 5th Annual Asia-Pacific Law Leaders Forum - North Asia Roundtable
2015-: お茶の水女子大学 女性ビジネスリーダー育成塾:徽音塾「企業法務・労務管理」「企業と法律」「ビジネスと法律」講師 / Speaker, Kiin Juku – for women business leaders – presented by Ochanomizu University (various business legal topics)

2015: Panelist, New York State Bar Association, Antitrust Law Section Annual Meeting ("Conflict and Comity in International Cartel Enforcement - Cutting Edge Issues")

2010: Speaker, International Antitrust Forum (Taipei), organized by the Taiwan Fair Trade Commission ("Litigation Procedure & Practices of Japan International Antitrust")
履歴 / Profile
1989 東京大学法学部卒業 / The University of Tokyo (LL.B.)
1990 司法試験合格 / Pass Japanese bar examination
1993 弁護士登録 あさひ法律事務所国際部門入所 / Admitted to bar, join Asahi Law Offices
1997 The University of Chicago Law School (LL.M.)
1997-98, 99-2000 Masuda & Ejiri - New York Office

1998-99 Rogers & Wells - New York Office

2001 あさひ法律事務所国際部門パートナー就任 / Partner, Asahi Law Offices

2002 あさひ・狛法律事務所国際部門パートナー / Partner, Asahi Koma Law Offices

2007 西村あさひ法律事務所パートナー / Partner, Nishimura & Asahi

2020 汐崎法律事務所設立 / Founder, Shiozaki Legal

コンタクト / Contact
電話番号 / Phone
+81-3-4334-8192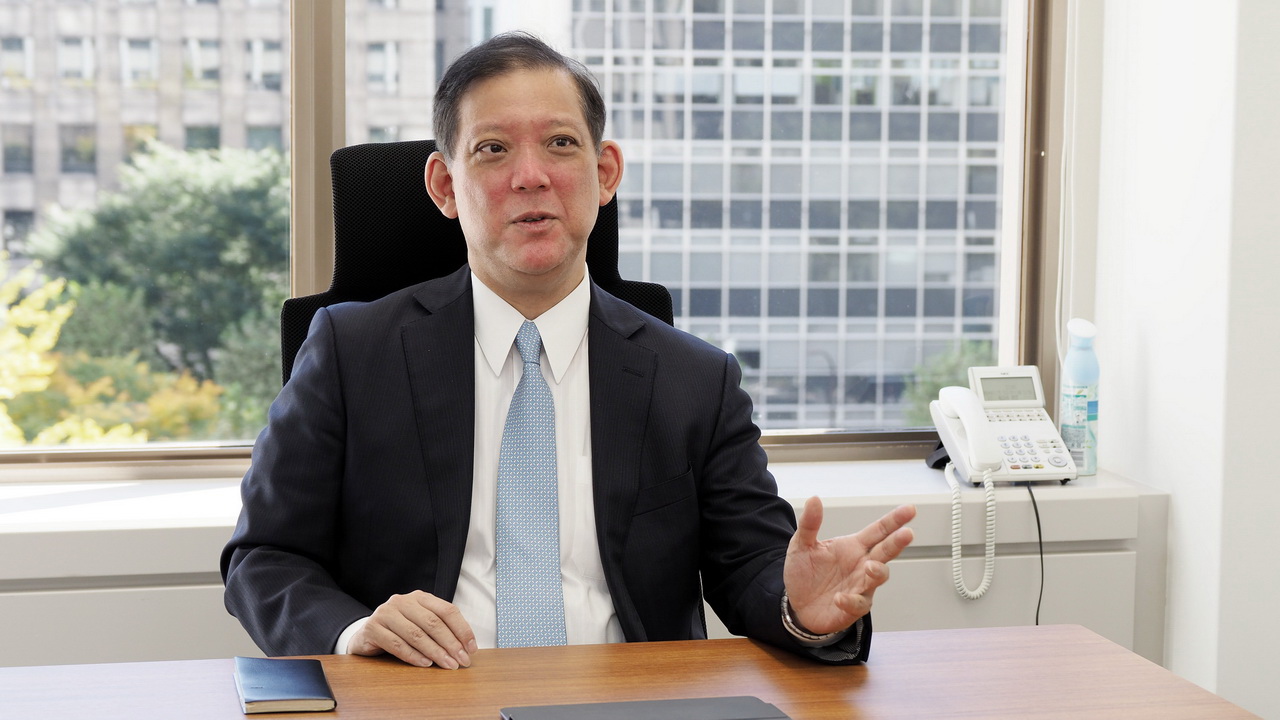 アクセス / Access
<主要なアクセス
 / Public Transportation>
○ 東京メトロ銀座線  虎ノ門駅 11番出口徒歩2分
○ 東京メトロ千代田線 霞ヶ関駅 A13出口徒歩6分
○ 東京メトロ日比谷線 霞ヶ関駅 A13出口徒歩7分
○ 東京メトロ丸の内線 霞ヶ関駅 A13出口徒歩9分
○ 都営三田線     内幸町駅 A3出口徒歩10分
○ 東京メトロ有楽町線 桜田門駅 2番出口徒歩9分
○ 東京メトロ南北線  溜池山王駅 8番出口徒歩9分
Tokyo Metro (subway) - ○ Ginza Line
Toranomon Station (G-07)
Walk 2 minutes from Exit #11